We Tried Gary Vaynerchuk's Garage Sale Tactic | Millennial Marketing of CO
If you watched the live videos on Facebook you probably laughed along with my sister and I in our attempt to garage sale. Long story short, we stole a dog.
Before you read further I encourage you to first watch the video  of our garage sale-ing attempt.
So here's the dog, her name is Amber.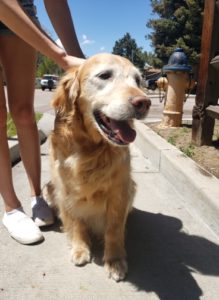 Now we didn't know we stole the dog until we returned her to her home. What's important to note in this picture is the fire hydrant. "Dog,"  which is what she was referred to for two hours, was walking near this fire hydrant when Natalie called her to her. The fire hydrant just so happens to be on the corner of her own yard, which we didn't know until we went to drop her off.
If there's any lesson to learn after this whole scenario, get your dog micro-chipped because poor Amber wouldn't have come home without it!
Now back to the garage sale-ing.
The point of our day was to go garage sale-ing (pardon me if that's not technically a word) was to see if there were hidden gems within the sales that could be flipped on Ebay or Facebook Marketplace. While I still feel like the strategy holds true, it just wasn't in the cards that day. Here's the Gary Vaynerchuk Youtube video I'm referring to for those wondering.
Even though the day didn't work out in that way, we will try again hope you all enjoyed the laugh as much as we did.
–Jordan