You know when you think you know something and you're absolutely dead set on what you're doing? You know when people try to offer their advice and you just don't want to hear it. You may even have that one friend that is supportive but also thinks you're being stupid
I am eternally thankful I'm a complete and utter idiot. 
What I'm about to write stems from the time I was in an abusive relationship to now when I met and fell in love with the love of my life. (Anyone who has been following me for the past couple of years probably just re-read that because they never expected me to say that.)
So let's take a minute to backtrack here and I'll summarize some events in the last two years. In the beginning of 2018 I changed my entire life. I dumped my ex, bought a truck, a condo and partied with my friends. It was so great and I'll never forget the relationships I mended during that time. I've peed from laughing so hard, stumbled drunkenly into bed way too many times I'd like to admit and made some of my most favorite memories.
From there, it took me a long time to be open to any sort of "relationship." I had to fix myself first, or start to anyway, before  I could take anyone else on. About a year ago I started joking with my friends that I could feel God softening my heart for a man. (Legit I was baking cookies and shit, how domestic.) Some guys came here and there and no matter what it always felt like I was trying to make it work. I mean it took a lot for me to talk in the first place and then when I finally felt like I would allow myself to even like them, the rug was ripped out from under my feet. Another one bites the dust, must be something I did.
It wasn't me at all. It was all leading up to something better, I just didn't know it until I knew it.
I've been hit, drug across the floor and bruised. Yeah that shit still hurts to admit but it happened.
In an attempt to fix "that," I've had one night stands and glorified booty calls. I laugh when I think back to guys who said they care and are "there for you." You guys are so cute. I've felt loneliness to the core and  you all were just attempts at filling that hole.
Now, if you're a girl and you feel this in your soul, please don't do it. End it with the guy you're talking to and do something for yourself that no one else can do for you… leave. If you feel like you have to force any piece of your relationship, I hate to be the one to break it to you but he's not the one.
I thought I knew what happy looked like.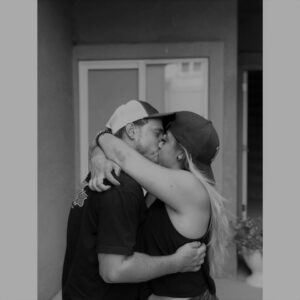 I thought I knew how I wanted to be treated.
I thought I knew what the hell I was doing.
I'm so thankful I knew absolutely nothing.
I write this because I need to say it more than I need to be heard. I've told many friends in different situations that they need to forgive themselves. Like truly forgive themselves. This isn't an easy task to tackle but it's one of the best skills I've learned how to do. Being able to write things like this allows me to forgive myself for the active role I've played in my own life. Sure, I wish I could take back all of my mistakes. I wish I could be "perfect" for my future husband, but that's not how God planned my life. That's one of the great things about Him, His grace is never ending.
As the queen of beating herself up, I hope what I've wrote here gives a glimmer of hope to anyone like me. There is a guy out there that is going to truly love YOU. You're going to feel it in your soul and never want to leave his side, trust me. I can't wait for you to feel at peace and truly happy in your soul. Everyone deserves a feeling like this.
Don't let yourself be your biggest enemy. We all think we know until we realize we don't.
Thanks for reading.
Jordan
Professional Idiot